LA Waterkeeper Call for Volunteer Divers!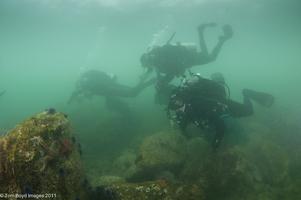 LA Waterkeeper's Kelp Project is looking for AAUS certified divers to help restore the once thriving kelp forests of L.A. County. Established in 1997, the Kelp Project is widely recognized for its hands-on, volunteer-based approach to restoring this vital undersea habitat.  Our staff and volunteer team has worked acre by acre off the shores of Malibu and Palos Verdes to progressively return bleak urchin barrens into rich kelp forest communities that support more than 800 species. LAW's goal is to help rid the Palos Verdes Peninsula of urchin barrens by 2016.
LA Waterkeeper is a long time advocate for L.A. County waters, working to restore marine and freshwater environments and to keep stormwater pollution from reaching our rivers, creeks, and beaches. Additional information about the Kelp Project dive monitoring and restoration activities is available at http://lawaterkeeper.org/kelpproject/.
Are you interested in diving on the Kelp Project?  We need rescue certified divers who are comfortable working underwater in Southern California conditions off a 24 ft boat.  Once you are cleared by our Dive Safety Officer (DSO) you may sign up for as many dives as you wish, with the expectation of at least one dive day a month. The boat ride is free and you will gain hands-on experience with topside and underwater work as a scientific diver.  Come out on our boat for a day, give back to your local reefs, learn kelp forest ecology, and gain dive buddies.  For AAUS scientific diving standards you will need:
Minimum Age 18

Actively diving (4 dives within the past 12 months)

Rescue Diver SCUBA certification

Current CPR, First Aid and Emergency Oxygen certifications

AAUS Dive Physical (your doctor can perform it)

Scuba regulator equipment serviced, by an authorized technician, within the last 12 months (or new within the last 12 months). Rental gear with receipt is acceptable.

Current diving insurance (DAN, Dive Assure, etc.)

Pass the AAUS swim test and dive skills checkout (performed at UCLA)

Maintain an up-to-date profile on 

http://scord.diveaaus.com
When:  Weekdays and weekends all year round.  Frequently check the LAW calendar and contact the organizer Brian bmeux@lawaterkeeper.org, 310-394-6162 x.107 for availability once you are cleared by our DSO.